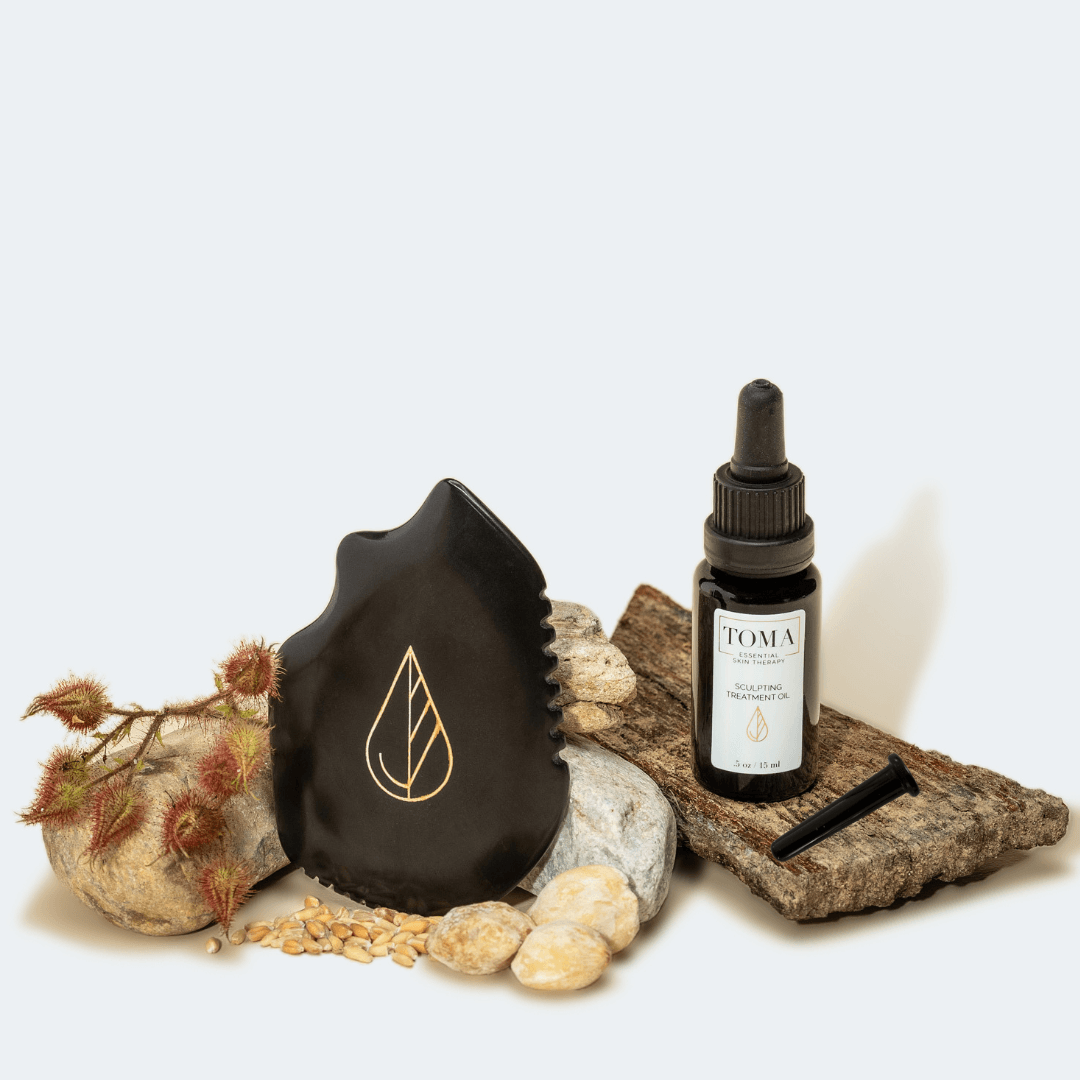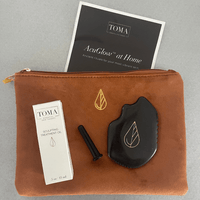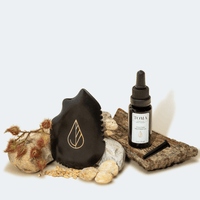 AcuGlow™ at Home
For our proprietary gua sha technique
Developed through our combined 30 years of experience in traditional Chinese Medicine, this treatment set is designed for our gua sha technique at home. Bioadaptive botanicals and essential fatty acids in our Sculpting Treatment Oil help brighten and hydrate, our Facial Sculpting Stone contours and tones, and our facial cup plumps and defines.  Each system comes with a pictorial guide and a gorgeous velvet pouch. Save $40 when purchased as a system.

why we made it
Our Inspiration
We set out to develop a complete set of tools for our gua sha technique to make the routine simple and easy to do daily.  Our AcuGlow™ is a treatment that noticeably firms and tones skin through lymphatic drainage, acupressure, and myofascial release. Although the tools can be used with any facial oil, our Sculpting Treatment Oil is formulated with vitamin-rich antioxidants to give extra benefit to the treatment and is offered for specific skin types.
Every AcuGlow™ at Home system comes with a pictorial user guide that details the steps.
Oil: Vitis Vinifera Seed Oil (Grapeseed Oil), Persea Gratissima Oil (Avocado Oil), Macadamia Ternifolia Seed Oil (Macadamia Nut Oil), *Simmondsia Chinensis Seed (Jojoba) Oil, Calophyllum Inophyllum Seed (Tamanu) Oil, Morinda Citrifolia (Noni) Extract, Cananga Odorata (Ylang Ylang) Flower Oil, Lavandula Angustifolia (Lavender) Oil, Nardostachys Chinensis (Spikenard) Root Oil, Rosa Damascena (Rose) Flower Oil. Stone: Bian Cup: Silicone
*Ingredients from organic farming. 100% of our ingredients are naturally derived.
Acuglow
Love it! Easy to use and see a difference in my skin tone!
First time I've seen such obvious results for my investment!
I absolutely love this product line! I always went cheap on my skincare until I was introduced to Toma by my acupuncturist and I can see the difference in photographs and how my skin feels! Simple and easy to use without a lot of extra products and effort I don't need. Thank you for a beautiful beauty regimen.
Fabulous kit to continue at Home treatment!
I love offering this as an add-on to my clients after the Acu-Glow treatment. Such a great way to continue the journey to glowing skin at home!
beautiful gua sha stone and oil
My teenage daughter decided she wanted to gua sha (thanks to tiktok), so we are sharing the stone and oil. It's a beautiful stone. I love putting it in the fridge after out drinking for a night to have for my puffy face in the AM. I have extremely sensitive skin and the oil does not irritate it. Great products.